El Cerrito High School
Class Of 1985
From the El Cerrito Archives Newsletter:
Opening of the New El Cerrito Memorial Stadium
Friday September 2, 2016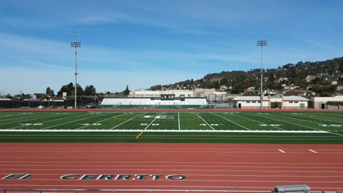 All Hail to Hale Roach, Frank Milo and Sandy Berman.
Friday, September 2, 2016, we will be celebrating the opening of the new El Cerrito Memorial Stadium and the dedication of stadium facilities to three men: Hale Roach, Frank Milo and Sandy Berman. Festivities begin at 7:00 p.m., with kickoff shortly after.
At halftime, we'll have a resolution, introduction of families, brief words by the Board president and our Gauchos fight song.
In addition you'll see the raising of the new Gauchos flag, featuring designs of John Nules, and availability of ECHS 75th Anniversary stadium seat cushions.
We are inviting all football player alums to come out and help us with this historic event. If you plan to attend, please contact George Austin at gaustin@wccusd.net, to be put on the guest list. The game should provide ample fireworks as we will be hosting the powerful Inderkum Tigers from Sacramento. This will be a Gauchos Blackout Night so wear a black shirt or tee. Please come out and help us break in this beautiful new stadium.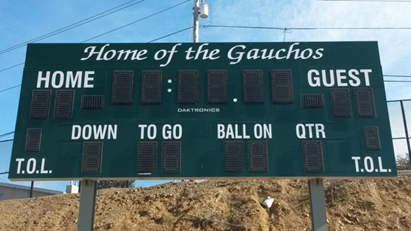 Alumni of El Cerrito High School
Were you an athlete or member of a spirit group at El Cerrito High? Are you proud of your contributions as a Gaucho? Do you want your performances to be remembered for time immemorial? You know you do! Here's your opportunity to let everyone know your greatness! How? Order a tile with your name, sport(s) or spirit group and years of participation. We will install it for all to see in the new El Cerrito High School Memorial Stadium!
"We" are the El Cerrito High School Archiving Project, and it is our mission to support the development of a strong ECHS alumni body, to collect, preserve and celebrate the history of El Cerrito High School and develop connections to current students and to the El Cerrito community. Our Tile Project will raise funds exclusively for ECHS student scholarships.
Please help support the Archiving Project and ECHS students by purchasing a tile today -- memorializing your contributions in the process! Installation will begin as early as Fall 2016.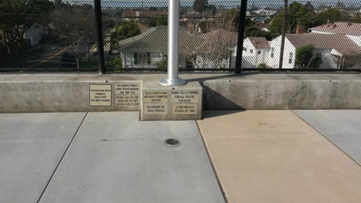 Go Gauchos!

'85 is live!
El Cerrito High School news:
If you have any news you'd like to share, please email me at andrealum@yahoo.com.
If you were there...
Screaming during the North Coast Sectional football playoffs at the Coliseum
Laughing during"Anything Goes" in the Little Theater
Cheering on the Girls' Basketball Team...RBAL champs!
And seeing the horror on the administration's faces during the Purple Rain Rally...
then you're a Gaucho, Class of '85!